We read from our basal this week, and our story was: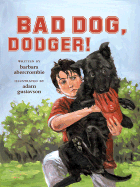 My kiddos enjoyed this story because many of them could relate to Sam, who has a new puppy that always gets in trouble! We talked a lot about helping others learn the rules (great review for school rules too, especially at this point in the year!)
For reading comprehension we focused on problem and solution. We read several stories and the kids did a great job at identifying the problem and how it was solved in each story.
I had them make these cute flip-flap books as an assessment (rather than using the problem/solution workbook pages that came with our reading series). I thought they did a fabulous job!